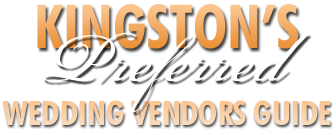 The Kingston Wedding Planner is adding a New Free printed "Preferred Wedding Vendor Guide".
This will be distributed at all the local vendors as well as the wedding shows.
You don't want to miss out on this opportunity.
Choose one of our web listings
we do it all for you!
Blogs
Mobile exposure through our new IPhone App.
Local Exposure at the shows we participate in.
Pinterest exposure. We pin all our listings designed.
Interactive full color ads with ability to add video and slide shows into the design.
Email blasts for your promotions or events on the home page, broadcasted to our large mailing list
Social Media exposure with Facebook and Twitter!
Ultimately generate more revenue, increase profits and grow your business!
*Each web listing will have a Free listing in the printed "Preferred Wedding Vendor Guide
Select your package – each web listing will have a free listing in the "Preferred Vendors Guide"
INCLUDES
Up to 5 image rotation
Direct link to email and website
1 directory category
Search words included for search box
Ability to post events/promotions on the home page
Email blast to bridal mailing list
Listing rotates below the essential plus listing
12 month directory listing
$60 per month with $197 set up
INCLUDES
Top exposure rotating above the essential listings
Updates throughout the year
Embedded video on listing and Youtube exposure
Up to 5 image rotation
Direct link to email and website
Up to 3 directory categories
Search words included for search box
Ability to post events/promotions on the home page
Email blast to bridal mailing list
12 month directory listing
$80 per month with $197 set up
INCLUDES
Exposure on every page with the side banner
Rotating images
Directly links to website
Top exposure rotating above the essential listings
Updates throughout the year
Embedded video on listing and Youtube exposure
Up to 5 image rotation
Direct link to email and website
Up to 3 directory categories
Search words included for search box
Ability to post events/promotions on the home page
Email blast to bridal mailing list
12 month directory listing
$250 per month with $197 set up

INCLUDES
Direct link to email and website
Basic contact info
Listed alphabetically below essential listings
$197 per year